Rita's Involvement in the Community
Rita Santamaria has always been active in the community both local and statewide, often giving her time and generous support to many organizations that are close to her heart.
An example of her overwhelming generosity was never more evident than in 2005 when Hurricane Katrina ravaged the Gulf Coast. The doors of Champions School of Real Estate were opened wide to the victims of Hurricane Katrina who were rebuilding their lives and seeking careers in the real estate profession. Their classes, teachers, texts, materials, breakfast, and frequently lunch, were provided and donated free of charge to those who found their way to any one of the campuses in Texas. Victims were welcomed at Champions throughout the entire fourth quarter of 2005. Sixty-eight students attended 367 classes, with scholarships exceeding $47,000.00. Rita stepped forward and made a difference that would last for lifetimes. She was recognized for her demonstration of caring about others by the Houston Association of Realtors gaining her a humanitarian award that year.
---
Below is a list of charities and organizations that Rita and Champions School of Real Estate® donates their time and money to helping.
American Cancer Society
American Heart Association
Asian American Real Estate Association
Childrens Miracle Network program
Collin County Association of Realtors
Cypress Creek Foundation for the Arts and Community
Greater Lewisville Association of Realtors
Foundation for Youth
Habitat for Humanity
Houston Association of Realtors
Jerry's Kids - Muscular Dystrophy Association
Susan B. Komen Foundation
Make a Wish Foundation
Nancy Owens Breast Cancer Memorial Foundation
National Association of Realtors
Texas Children's Hospital
National Association of Young Real Estate Professionals
National Association of Hispanic Real Estate Professionals (NAHREP)
Realtor® Relief Fund
Sunshine Kids
The Lone Star College Scholarship Foundation
WCR Texas Chapter and Numerous State and Local Chapters
This list is on-going monthly and we're proud of that!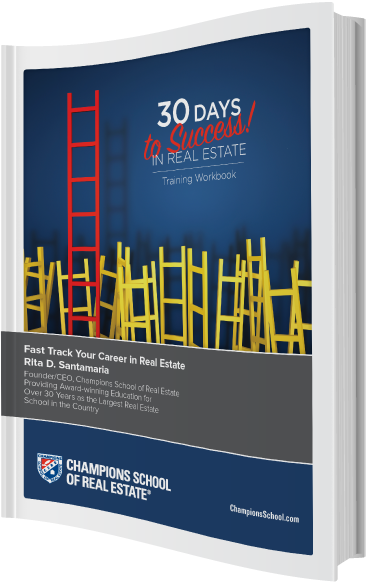 Fast Track Your Career in Real Estate
Workbook and Video Coaching
by Rita Santamaria
Only $99
Returning Champions School Students Can Call to Enroll for $20 Off